Educational Care For Your Little Ones
A full-service private school providing early education curriculum for infants up to 5 years.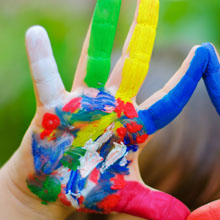 Who We Are
Spring Ahead Children's Academy is a full-service, full-day private school that cares for infants up to 5 years old. Our Early School gives the community a place to send their children and have their needs met socially, emotionally, cognitively, and behaviorally. It is rewarding for both child and specifically the parents who know that their child is nurtured, stimulated, and having fun in an academic environment.
What Makes Us Different
Spring Ahead Children's Academy was established in 2017 when the owners desired to put their education and construction skills to the test by building a school for little learners. After many hours of research, their goal was to create a space that inspires children and early educators to thrive in a classroom setting which would in return, give parents the complete peace of mind. In 2020, SACA was able to open their doors with toddlers up to pre-K and in 2022, additional classrooms and a small gym were built for all students and staff to enjoy throughout the school day.
Keeping You In The Know
Every family will have a Brightwheel account to stay connected with their child's day, communicate with staff, and pay tuition.  Brightwheel can be accessed on a smartphone app or using a web-browser on the computer. Spring Ahead Children's Academy believes that this platform will assist in creating a strong partnership with our families to provide quality childcare.

Find Us
2617 45th Street, Highland, Indiana 46322
Get Started
Learn about enrollment and how to get started.
Join Our Team
For interest in employment opportunities apply here.